NEW Fall 2017 Courses
You can register for these 1-unit courses on Webportal. Guest speakers will be featured throughout the semester.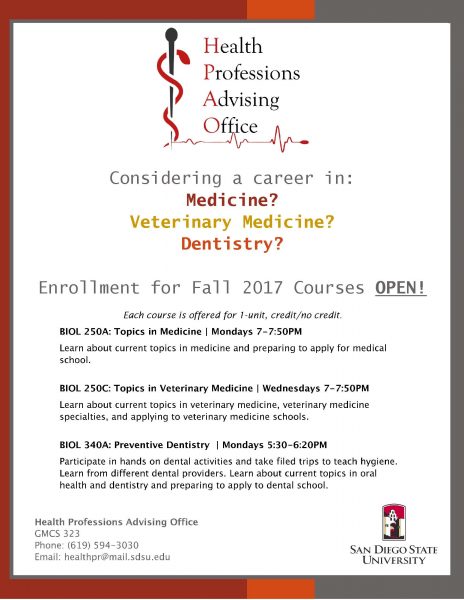 About the author
More posts by HPAO Staff
HPAO Information Sessions (Fall 2017)
You are required to attend a one-time information session to establish an office file*. Please call (619-594-3030) or stop by our office (GMCS 323) to register.
Wednesday, September 13
4-5pm | Location: GMCS 307
Wednesday, September 20
12-1pm | Location: P 148
Thursday, September 21
5-6pm | Location: GMCS 329
Wednesday, September 27
6-7pm | Location: GMCS 328
Friday, October 6
12-1pm | Location: GMCS 329
Thursday, October 19
4-5pm | Location: GMCS 329
Wednesday, October 25
4-5pm | Location: GMCS 307
Wednesday, November 15
6-7pm | Location: GMCS 328
*Must be a current SDSU student or alumnus
Health Professions Workshops (Fall 2017)
Interviewing for Health Professions School Admission
Thursday, September 14
6:30-7:30pm | Location: P 145
1st and 2nd-year Pre-Health Open Forum
Tuesday, September 19
6:30-7:30pm | Location: P 145
3rd, 4th, 5th-year and Up Pre-Health Open Forum
Tuesday, September 26
6:30-7:30pm | Location: P 145
Information on Postbaccalaureate Programs
Wednesday, October 4
5-6pm | Location: P 145
Application Cycle Kickoff for All Health Professions
Tuesday, October 10
6-7:30pm | Location: P 145
"From an Admissions Dean Perspective"
Dr. Joel Maurer, MD
Michigan State University- COHM
Wednesday, October 11
5:30-7pm | Location: GMCS 333
Summer Opportunities
Wednesday, October 18
5:30-6:30pm | Location: P 145
Writing a Winning Personal Statement for Health Professions School
Wednesday, October 25
6-7pm | Location: P 145
Animal Conservationist and Advocate:
Joan Embery
Wednesday, October 25
7-8pm | Location: GMCS 333