Predental Calendar
Nothing from July 27, 2021 to August 2, 2021.
Advising for Students Applying This Cycle
Please email sdsuhpao@gmail.com if you are applying this cycle to a graduate program and want to schedule an advising appointment with Mr. Watson. You will get priority scheduling if you do so. 🙂
HPAO Google Group Email List
To receive HPAO Announcements and critical communications from our office, email sdsuhpao@gmail.com to be added to our Google Group mailing list. Please include your health profession of interest and the email you want added to our list.
Group Advising Schedule – Summer 2021
Students of all levels and across all health professions are welcome to these open discussions with the Director of the Health Professions Advising Office!
Zoom Link: https://SDSU.zoom.us/j/6569918788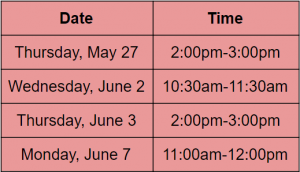 Our Goal
We support students as they:                                                                                                                      • Explore options in the health professions
• Plan and complete pre-requisite course work
• Gain clinical experience
• Provide service and leadership both on campus and in the community
• Prepare for admissions tests and the 15-month application process
HPAO offers:                                                                                                                                                • Information about health professions
• Individual and group advising
• Health professions HPAO mentors for 1st & 2nd year students and new transfer students
• Special health professions topics courses
• Speakers, workshops, conferences and events
• Application assistance for dentistry, medicine, optometry, pharmacy, physician assistant, and veterinary medicine