About the Health Professions Advising Office
Welcome Class of 2021!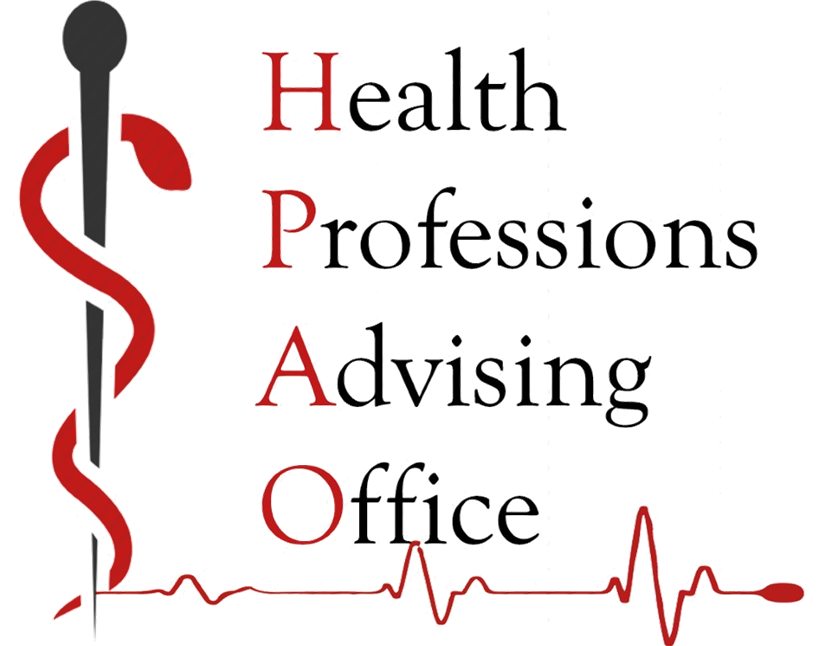 The Health Professions Advising Office is a resource for current students and alumni planning a career in the health professions. HPAO provides information, guidance and support to students and alumni from any major about most health professions*, including dentistry, medicine (M.D., D.O., and D.P.M.), optometry, pharmacy, physician assistant, and veterinary medicine.
We support students as they:
• explore options in the health professions
• plan and complete pre-requisite course work
• gain clinical experience
• provide service and leadership both on campus and in the community
• prepare for admissions tests and the 15-month application process
HPAO offers:
• information about health professions
• individual and group advising
• health professions peer mentors for 1st and 2nd year students and for new transfer students
• special health professions topics courses
• speakers, workshops, conferences and events
• application assistance for dentistry, medicine, optometry, pharmacy, physician assistant, and veterinary medicine
Students are required to attend a one-time, one-hour health professions information session before meeting with the advisor or requesting a peer mentor. Sign up in GMCS 323 or call 619-594-3030.
Office Information:
GMCS 323, SDSU
619-594-3030
Hours:
Mon, Wed, Thurs, Fri: 9AM-5PM
​Tues: 9AM-6PM
*The office will be closed on Thursday, August 24th and Friday, August 25th *
Walk-in Advising Hours:
Tues: 3PM-6PM; Sign up for Walk-in Advising begins at 2:30PM
*Walk-in advising will begin 09/05/17*
Fall 2017 Courses Available: Register on Webportal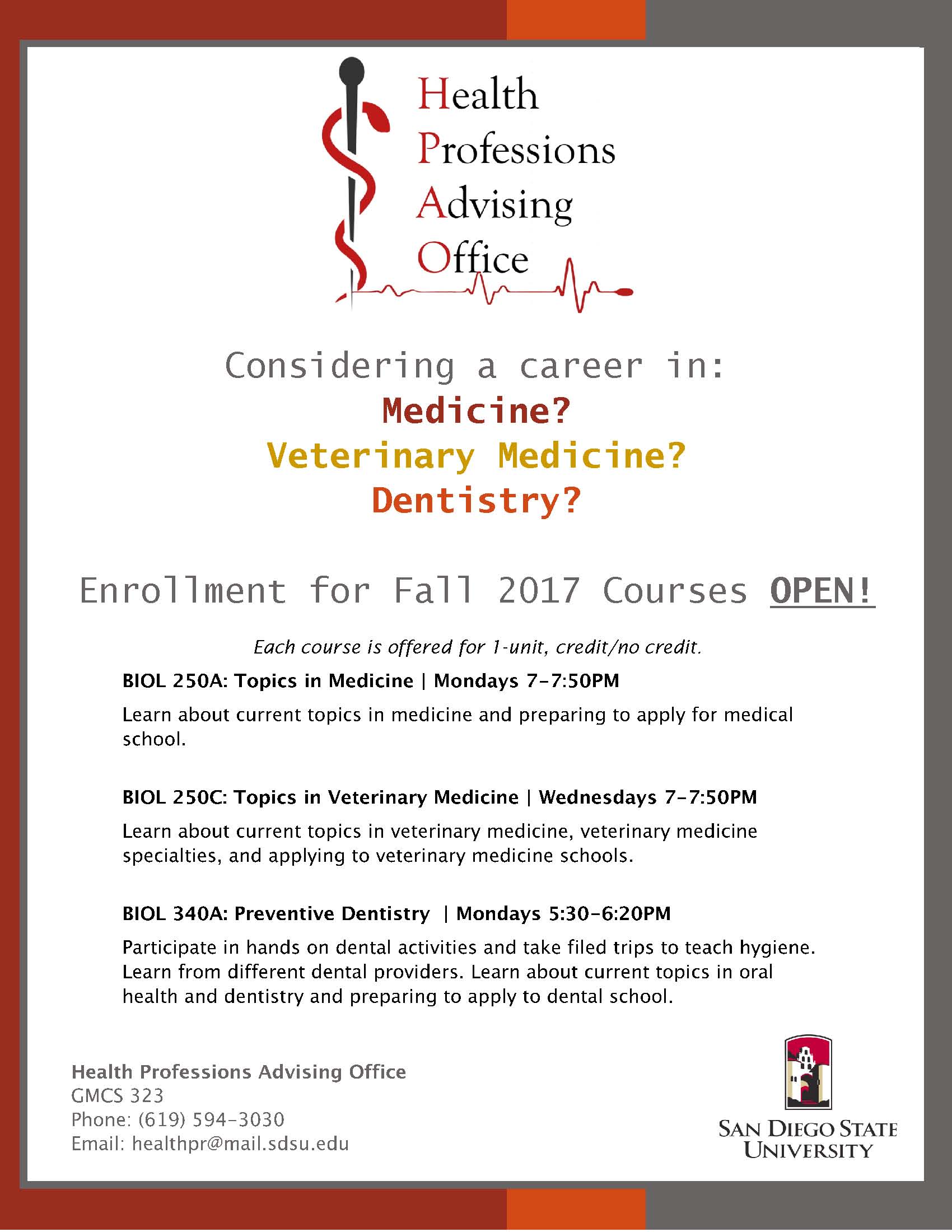 To receive HPAO Announcements, select your health profession interest below to be added to our Google Group mailing list and select "Apply for membership" then "Apply to join this group":
HPAO Alumni
HPAO Pre-Medical
HPAO Pre-Dental
HPAO Pre-Optometry
HPAO Pre-Pharmacy
HPAO Pre-Physician Assistant
HPAO Pre-Veterinary
Those interested in physical therapy, nursing, or public health should schedule a meeting with advisors in these programs at SDSU.
HPAO Information Sessions (Fall 2017)
You are required to attend a one-time information session to establish an office file. The times and dates are tentative and may be subject to change.
Tuesday, September 12
2-3pm | Location TBD
Wednesday, September 13
4-5pm | Location TBD
Wednesday, September 20
12-1pm | Location TBD
Thursday, September 21
5-6pm | Location TBD
Wednesday, September 27
6-7pm | Location TBD
Friday, October 6
12-1pm | Location TBD
Thursday, October 19
4-5pm | Location TBD
Wednesday, October 25
4-5pm | Location TBD
Thursday, November 15
6-7pm | Location TBD
Health Professions Workshops (Fall 2017)