There are multitudes of opportunities for students to get involved in the local community. Keep in mind – how you dedicate your time will help shape your application for professional school.
Student Organizations
SDSU provides many opportunities for students to join clubs and organizations. There is no "one perfect" organization for a student planning a career in the health professions, just the one you feel is right for you. Join organizations that you feel will best widen your perspective and exposure to the fields of medicine and health. HPAO works with several student-organizations on and off-campus, and we encourage you to pursue interests about which you are passionate. The pre-health community at SDSU is constantly growing and there is at least one student organization for almost every health profession you can think of.
Internships
Internships are a way to gain relevant work experience, get your "foot in the door", and develop your professional network.
SDSU Career Services
 provides resources to help students create portfolios, CVs and resumes, as well as search for internships and connect students with mentors.
Leadership and Cultural Competency
SDSU offers certificate programs for those who want to build and strengthen their leadership skills and develop a working knowledge and use of cultural competency. SDSU is dedicated to diversity and inclusion which extends beyond campus and into the community.
Community Service
Being actively involved in the community demonstrates your interest and dedication to helping others and the community in which you live. In addition to providing a way to express these personal attributes, community service also provides an opportunity for pre-health students to learn about the communities in which they will provide health care and to give back to these communities. Our 
student organizations
 often have opportunities, as does
Student Life & Leadership
.
Research/Scholarly Work
Many students believe that research is mandatory in order to apply to a health professions program. This is not true. Research is an optional experience and students should become involved if they are interested in the experience. Research can assist in evaluating your career decision. You can learn if you would prefer to pursue basic science research, clinical research, or research in any other field such as public health, public policy, anthropology, economics, etc. This experience is vital to developing problem solving skills and your ability to be innovative in addressing any issue/ problem in the health care field. SDSU is proud to offer a remarkable number of research opportunities to students both during and after their undergraduate careers through the Center for the Advancement of Students in Academia (CASA).
Study Abroad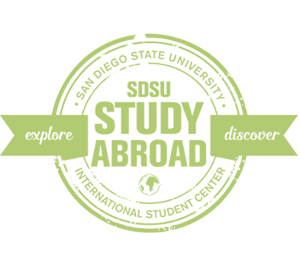 Spending time abroad during your undergraduate career can provide you with diverse experiences that can help you on your path towards a career in the health field. Benefits include learning a foreign language, working with other cultures, and completing humanitarian work. Although it can be an extremely rewarding experience, studying abroad requires careful planning and preparation, especially while trying to plan your busy pre-health class schedule. SDSU's 
Study Abroad
 and HPAO can help you avoid the pitfalls that could slow your progress.