Requesting a Peer Mentor
Students who have attended a Health Professions Information Session and established an HPAO file may request a peer mentor. Peer mentors are a group of dedicated, experienced, and trained students planning a career in the health professions who volunteer their time to assist other SDSU students. You will be matched with a peer mentor based on the information you provide and your health profession interest. In order to request a peer mentor, please visit the Health Professions Advising Office to request a Peer Mentor Request form.
Ask a Peer Mentor
Our peer mentors are also available throughout the week for quick questions or advice on how to become more involved on campus or in the community. You do not need to be assigned a peer mentor in order to utilize the Ask a Peer Mentor hours. If you have basic questions about health profession requirements or becoming more involved, please drop by and talk to a peer mentor at your convenience.
---
2017-2018 HPAO Peer Mentors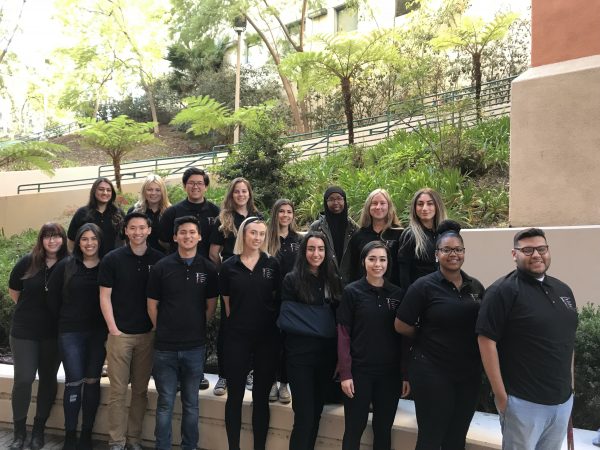 Dentistry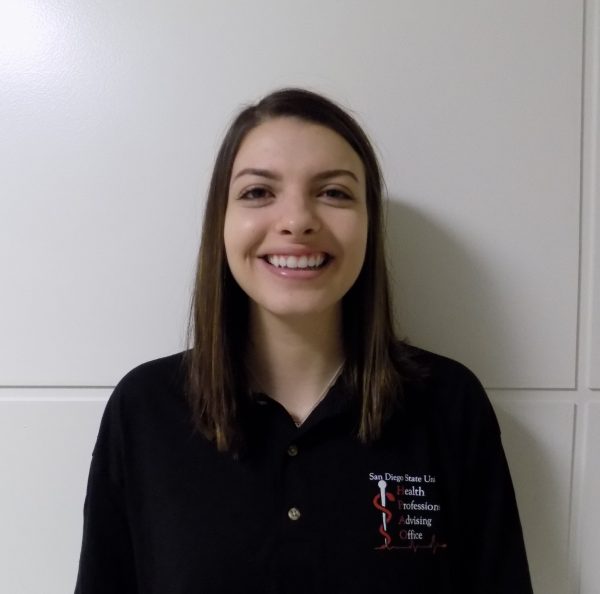 Lana Abusamra
5th year, Biology
Elite Orthodontics, Dental Assistant
Gallery Dental, Sterilization Technician
SDSU Pre-Dental Organization, External Vice President
Flying Samaritans, Secretary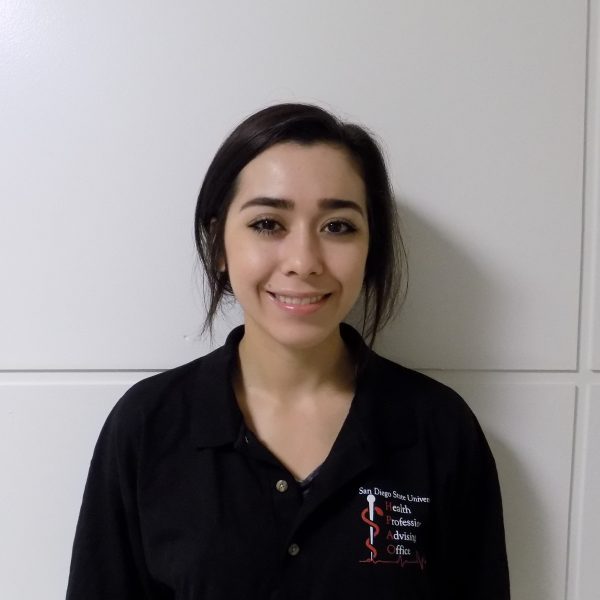 Jezabel Serna
5th year, Biology
Spanish minor
UCSD Free-Dental Clinic, Volunteer
College Rolando Library, Volunteer Tutor
Alpha Dental, Volunteer Dental Assistant
SDSU Pre-Dental Organization, President
Chicanos/Latinos for Community Medicine (CCM), Secretary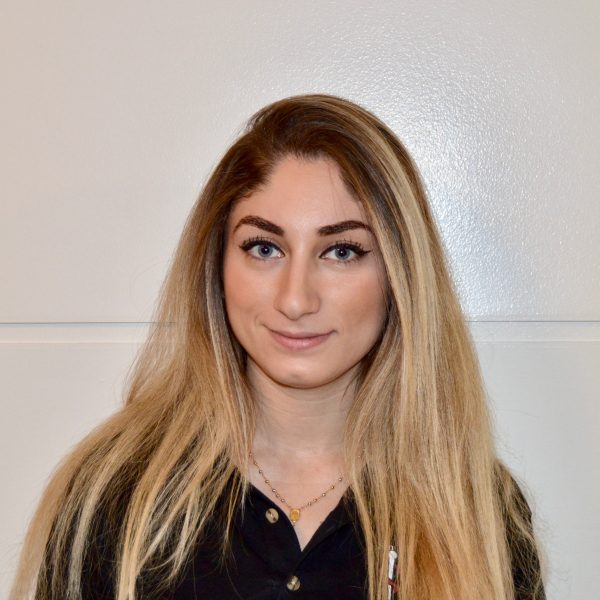 Netaliya Zora
4th Year, Biology
Religious Studies minor
Stephan's Family Dental, Volunteer
Middle Eastern and Chaldean Association, Volunteer
Microbiology Lab of Dr. Stanley Maloy, Ph.D., Volunteer Undergraduate Research Assistant
SDSU Pre-Dental Organization, Secretary
Council of Pre-Health Organizations (CPO) Help the Homeless, Internal Manager
Flying Samaritans, Member
---
Medicine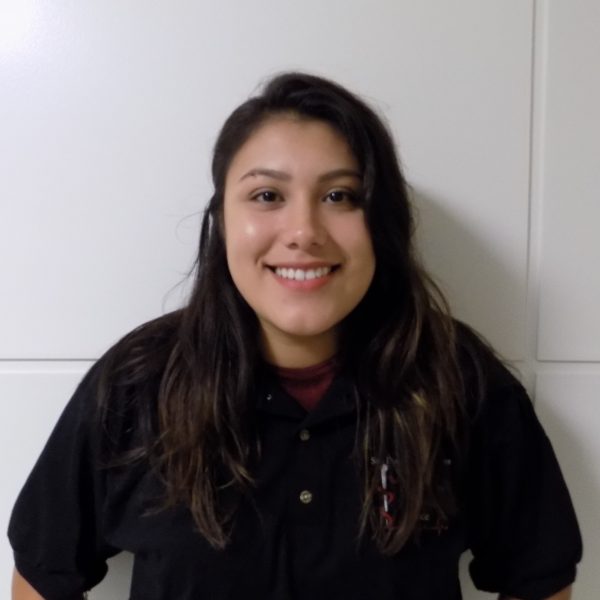 Brianna Anaya
4th Year, Biology, Spanish
Palomar Health Pathmaker Internship, Intern
Coaching Corps, YMCA Peninsula Soccer Coach
Biology Lab of Dr. Marina Kalyuzhnaya, Ph.D., Volunteer Undergraduate Research Assistant
Council of Pre-Health Organizations (CPO), Secretary
Medicos, Enfermeros, y Dentistas Para El Pueblo (MEDPEP), UCLA Scholar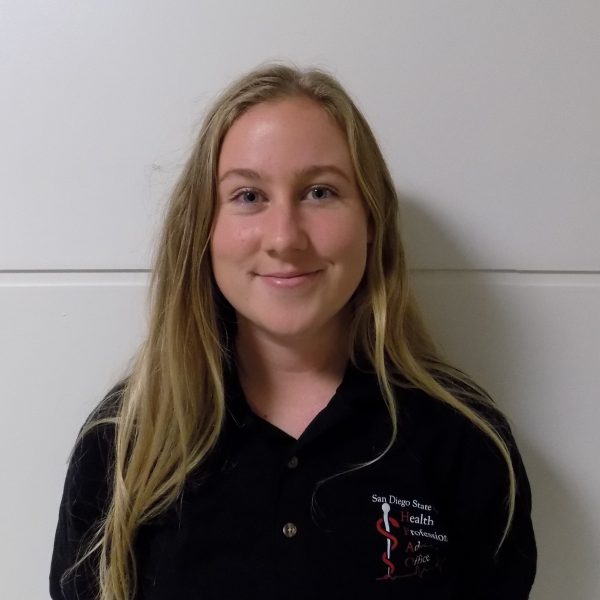 Katie Bachand 
4th year, Biochemistry
Religious Studies Minor
Palomar Health Pathmaker Internship, Intern
San Diego Rescue Mission, Tutor
SDSU Pre-Student Osteopathic Medical Association (Pre-SOMA), President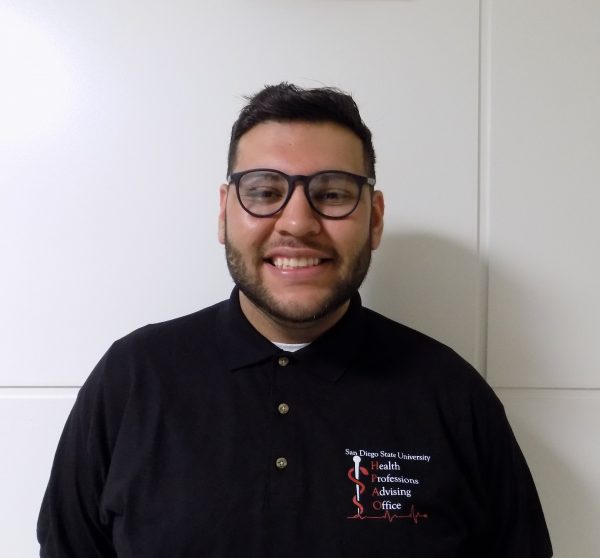 Brandon Brizuela
4th year, Psychology
Chemistry and Cellular and Molecular Biology Minor
Alvarado Hospital Medical Center, Volunteer
La Maestra Community Health Centers, Volunteer
Hispanic Scholarship Fund, Scholar
Summer Medical Dental Education Program, UCLA Scholar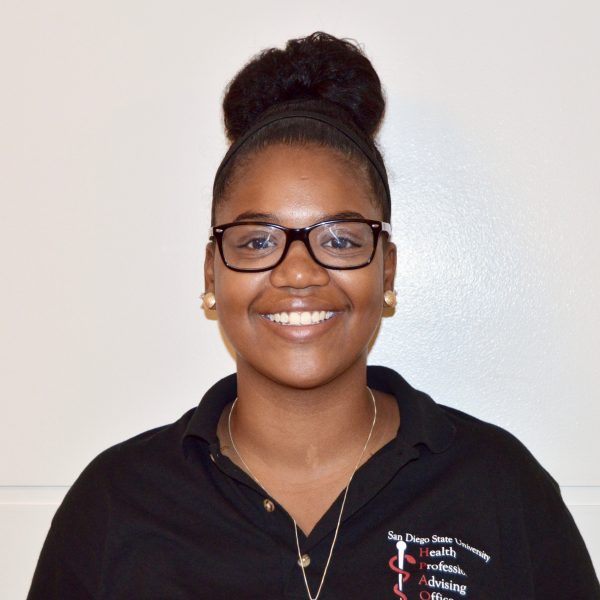 Jasmine Carey
4th Year, Interdisciplinary Studies in Biology, Chemistry, and Spanish
Palomar Health Pathmaker Internship, Intern
Class Coordinator, Biol 250A: Topics in Medicine
South Bay Latino Research Center, Research Assistant
Flying Samaritans, Member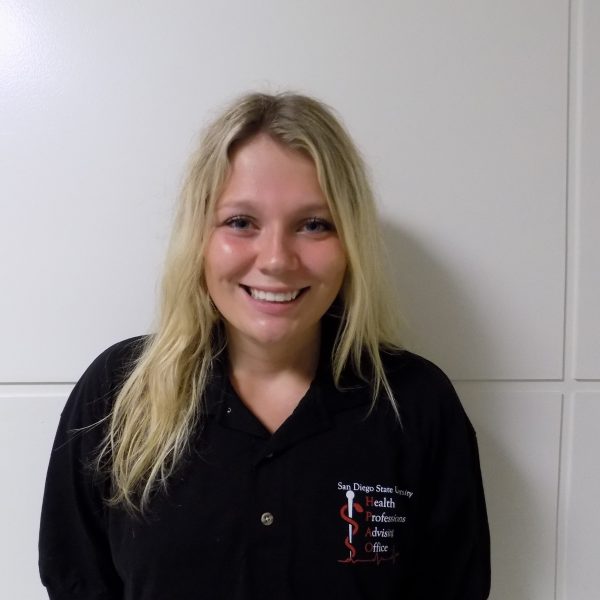 Breanna Messner
4th year, Biology
Kindred Hospice, Volunteer
Whidbey Health, Intern
Boys and Girls Club, Volunteer
UCSD, Field Research Intern
Alliance for Healthy Children, President
Council of Pre-Health Organizations (CPO) Help the Homeless, Fundraising Coordinator
Aztec Professional Pre-Health Organization, Community Outreach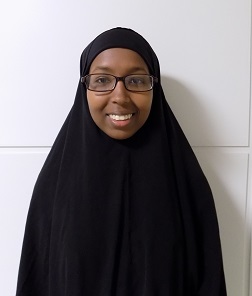 Alia Mohamed
3rd Year, Interdisciplinary Studies in Biology, Chemistry, and Arabic
UCSD Medical Center – Hillcrest, Volunteer
SOMHealth, Co-Event Coordinator/Director
Summer Health Professions Education Program (SHPEP), UCLA Scholar

Grecia Nolasco
5th year, Psychology
Behavior and Teratology Lab of Dr. Jennifer Thomas, Ph.D., Undergraduate Research Assistant
SDSU Council of Pre-Health Organizations, Co-President
Chicanos/Latinos for Community Medicine, President
SDSU Mortar Board, Senior Chair
---
Optometry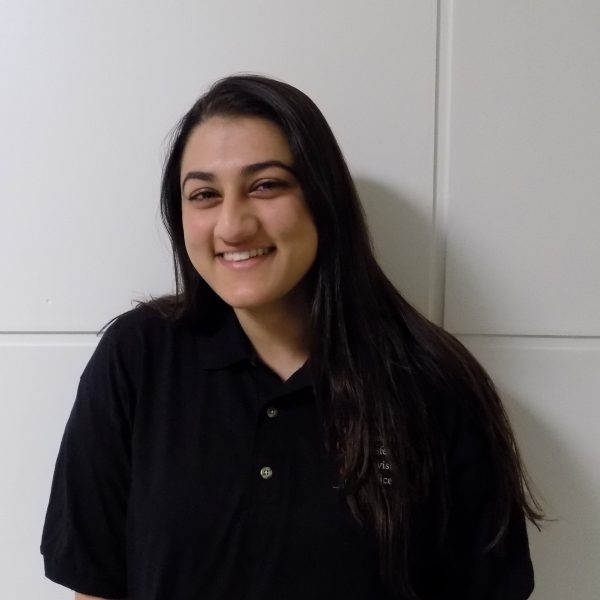 Yasmin Javed
3rd year, Biology: Cellular & Molecular emphasis
LensCrafters, Optometric Assistant
Volunteer Optometric Services to Humanity (VOSH), Intern
San Diego Center for Vision Care, Volunteer
FOCUS Club, Member
One Sight, Member
---
Pharmacy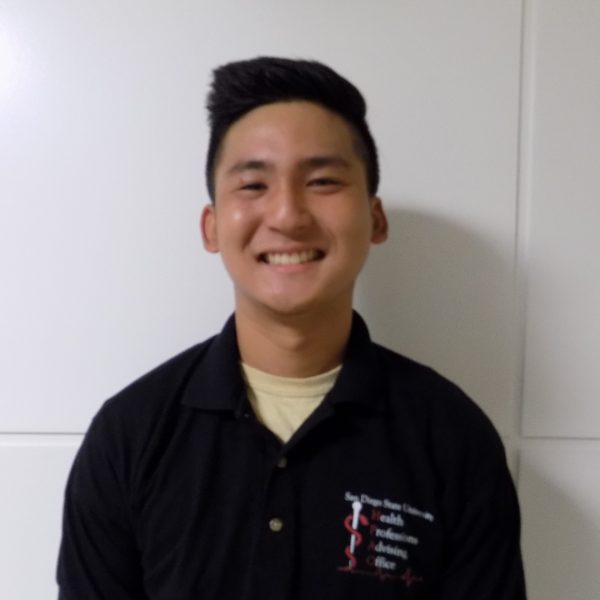 Daniel Listyo
3rd year, Biochemistry
Alvarado Hospital, ER Volunteer
Association of Pre-Pharmacy Students (APPS), Southern California Pre-Pharmacy Symposium Representative
Aztec Professional Pre-Health Organization (APPHO), Member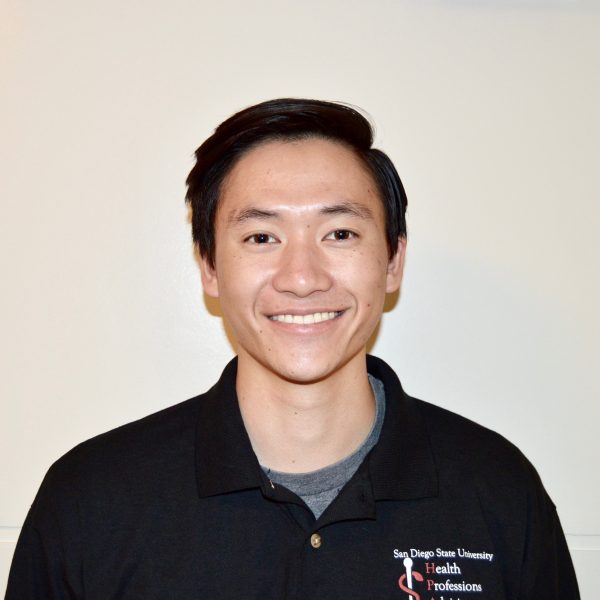 Steven Pham
5th year, Kinesiology Pre-Physical Therapy
CVS Pharmacy, Licensed Pharmacy Technician
UCSD Student-Run Free Clinic, Pharmacy Volunteer
---
Physician Assistant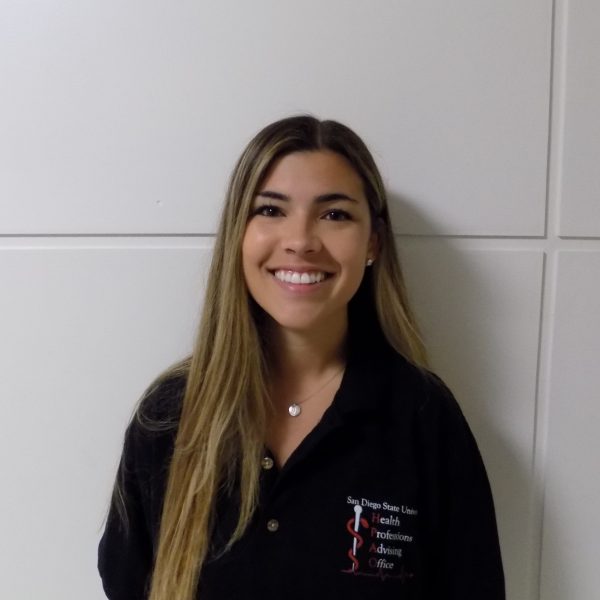 Kayla Hanscom
5th year, Foods & Nutrition
Certified Emergency Medical Technician (EMT)
Flying Samaritans, Member
Physician Assistant Student Association (PASA), Member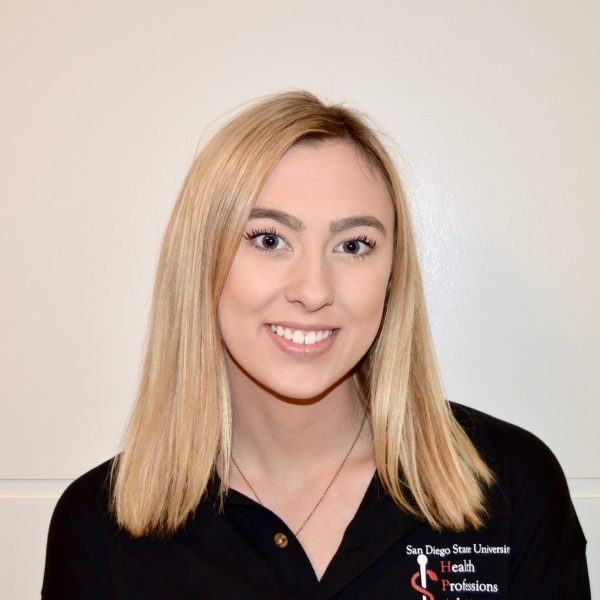 Aubrie Jones 
3rd year, Kinesiology, Pre-Physical Therapy
Honors Interdisciplinary Studies Minor
Certified Nursing Assistant (CNA)
Adaptive Fitness Clinic, Volunteer
Muscular Dystrophy Association Summer Camp, Volunteer
Physician Assistant Student Association (PASA), President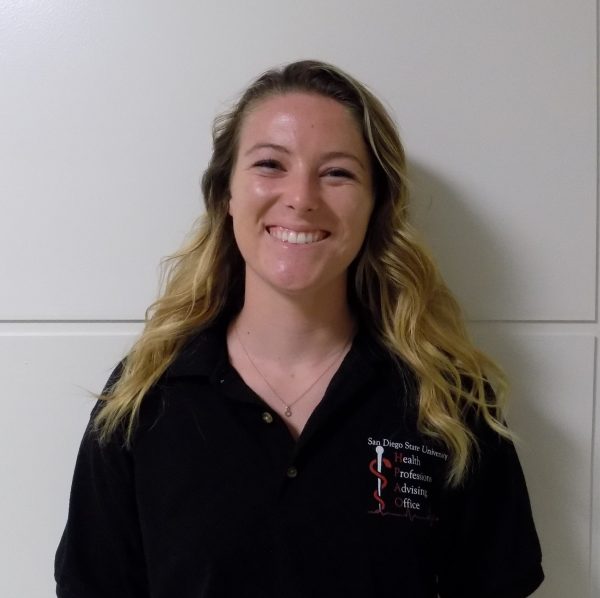 Kristina (Kit) Seymour
3rd year, Kinesiology, Pre-Physical Therapy
TEAM Physical Therapy, PT Aide
Palomar Health Pathmaker Internship, Intern
Certified Emergency Medical Technician (EMT)
SDSU Adaptive Fitness Clinic, Volunteer
Foothill Country Day School's Seedling School, Volunteer
Physician Assistant Student Association (PASA), Vice President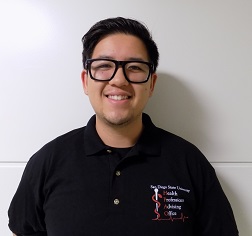 Jonathan Tran
5th year, Kinesiology, Pre-Physical Therapy
Licensed Phlebotomist
SENTA Clinic, Shadower
Palomar Health Pathmaker Internship, Intern
Biomechanics Lab of Dr. Shawn O'Connor, Ph.D., Volunteer Undergraduate Research Assistant
---
Veterinary Medicine


Amanda Miller
5th year, Biology, Zoology emphasis
Bonita Pet Care Animal Hospital, Veterinary Assistant
San Diego County of Animal Services, Volunteer
American Sign Language Club, President
Pre-Veterinary Medical Association (PVMA), Member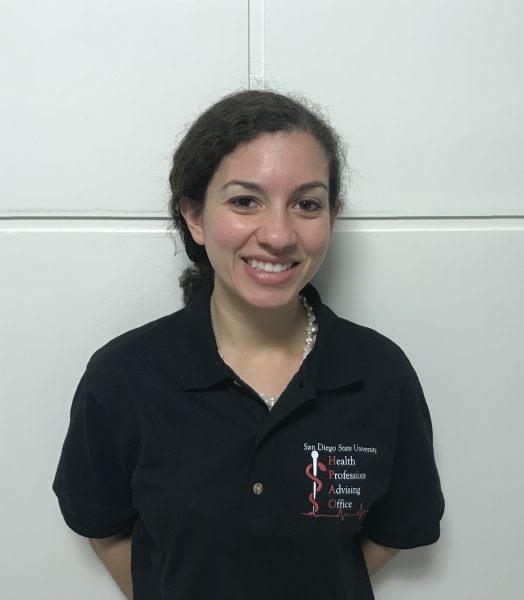 Rosemary Stanley
5th year, Environmental Science
Chemistry Minor
Topics in Veterinary Medicine, Class Coordinator
Animal Behavior Laboratory of Dr. Rulon Clark, Ph.D., Undergraduate Research Assistant
Woodside Animal Hospital, Certified Veterinary Assistant