Welcome to the Health Professions Advising Office!
Who we serve: SDSU students and Alumni interested in dentistry, medicine (M.D., D.O., and D.P.M.), optometry, pharmacy, physician assistant, and veterinary medicine.
OPEN ADVISING LINK

Do you have a general question about your prehealth journey? Start by speaking with a HPAO Peer Mentor!
Click on the following link to be connected with an HPAO Peer Mentor and continue on your prehealth Journey
ATTENTION: THE VIRTUAL FRONT DESK IS CLOSED DURING FINALS FROM 12/15/2020 – 1/19/2021.
THE VIRTUAL FRONT DESK WILL RESUME 1/20/2021.
IF YOU NEED ASSISTANCE PLEASE EMAIL SDSUHPAO@GMAIL.COM
Workshops – Spring 2021 TBD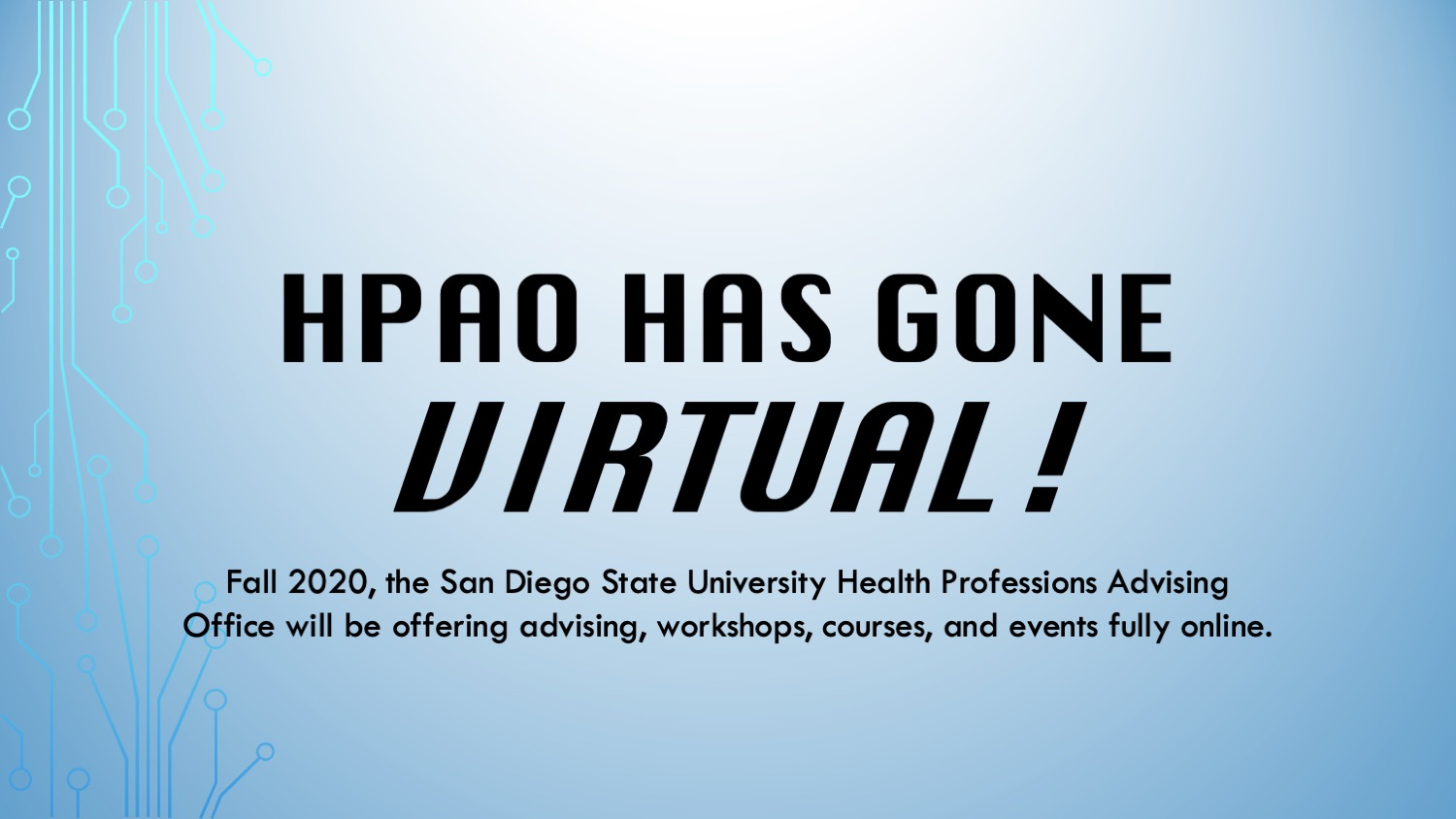 HPAO Google Group Email List
Group Advising Schedule – Spring 2021 schedule TBD
Students of all levels and across all health professions are welcome to these open discussions!
Zoom Link: https://SDSU.zoom.us/j/6569918788
SPRING 2021 SCHEDULE TBD
Hours of Operation
Monday–Thursday
8:00 a.m – 6:00 p.m.
Our Goal
We support students as they:                                                                                                                        • Explore options in the health professions
• Plan and complete pre-requisite course work
• Gain clinical experience
• Provide service and leadership both on campus and in the community
• Prepare for admissions tests and the 15-month application process
HPAO offers:                                                                                                                                                                    • Information about health professions
• Individual and group advising
• Health professions HPAO mentors for 1st & 2nd year students and new transfer students
• Special health professions topics courses
• Speakers, workshops, conferences and events
• Application assistance for dentistry, medicine, optometry, pharmacy, physician assistant, and veterinary medicine